Instagram/dafrixkun
Skin Series Blazing West (Aldous, Franco and Layla)
GridGames.ID – The latest news comes from the MOBA game made by Moonton, Mobile Legends: Bang Bang.
The game again presents a new skin series called Blazing West.
This latest skin series will reportedly be released for three heroes, namely Layla, Aldous and Franco.
Also Read: The Latest Mobile Legends Skin to be Released in November 2022
This leak was revealed by leaked Mobile Legends accounts on social media.
These accounts also reveal the release date of each Blazing West skin series.
Reportedly these skins will be released at the end of November 2022.
Also Read: Reaching 1 Billion Downloads, Mobile Legends Gives Free Hero 'Benedetta'
So, instead of being curious, I took a peek at the three Blazing West skins that will be released in Mobile Legends.
Aldous – Blazing Force (13 November)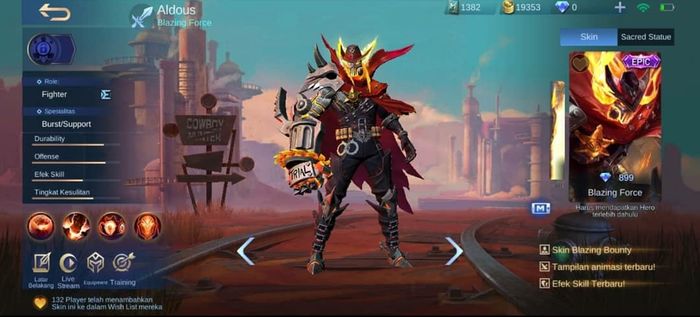 Instagram/ml_leak
Aldous (Blazing Force)
Aldous is the first hero to get this latest skin series.
Named Blazing Force, Aldous's newest skin is a skin from the new series, Blazing West.
Blazing Force is an Epic type skin that you can get at the Shop for 899 diamonds.
Also Read: RRQ Lemon's Latest Kagura Build, More Horror Than Ever!
PROMOTED CONTENT
Featured Videos