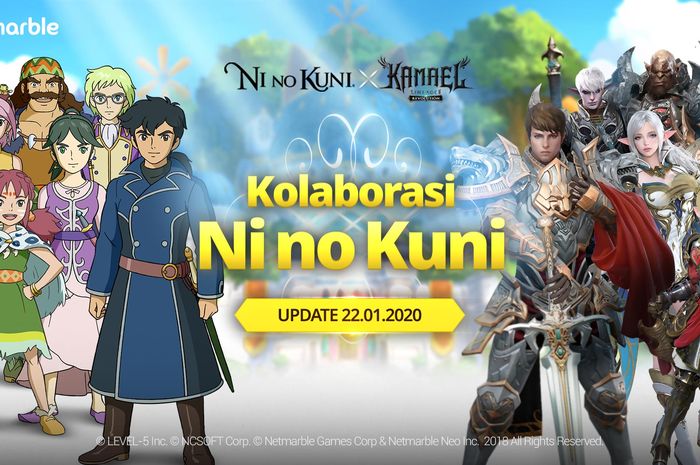 Netmarble
Lineage2 Revolution Announce Collaboration With RPG Game 'Ni no Kuni'
GridGames.ID – Lineage2 Revolution, Netmarble's mainstay MMORPG game again presents the latest update in collaboration with "Ni no Kuni II Revenant Kingdom".
Ni no Kuni II Revenant Kingdom is the third game title of 'Ni no Kuni', a fantasy RPG series produced by Level 5 Inc.
In this collaboration, new characters and features in Lineage2 Revolution take the theme of Ni no Kuni II Revenant Kingdom.
Also Read: Update Lineage2: Revolution With New Equipment And Dungeons
Players can also find Ni no Kuni characters in the Lineage2 Revolution game.
In addition, there are Character Costumes, Agathion, Mount Pet, Soul Crystal, and other content bethe theme is Ni no Kuni.
Also Read: New PUBG Mobile Event 'Spring Campaign' Will Be Released Soon
Not only characters and costumesm, in this collaboration an event with the same theme was also presented.
First there is the Red Diamond Refund Event, you can get a maximum of up to 100 thousand Red Diamonds according to the number of Red Diamonds you have used.
Then there are various prizes that will be given through the Ni no Kuni-themed Temporal Rift Event.
Finally, there are 10 million Adena, 3,000 Red Diamond, and 3 types of Daily Buff will be given to players who start a new game on the recommendation server.
Also Read: The King of Fighters Allstar Collaboration Presents Alice in Wonderland Costume
PROMOTED CONTENT
Featured Videos