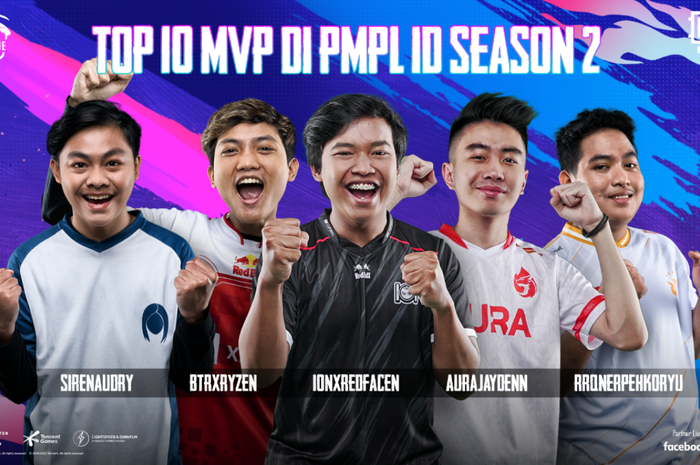 10 MVP in regular season PMPL ID Season 2
GridGames.ID – The regular season round of PUBG Mobile Pro League Indonesia (PMPL ID) Season 2 has ended.
The Regular Season itself has lasted for 1 month, starting from August 14 – September 13 2022.
This round was also won by the alien, Bigetron RA, who automatically became the first Indonesian team to qualify for PMPL SEA 2022.
Also Read: Bigetron RA Returns to the Peak of PMPL ID Season 2 Regular Season
Considering that the Regular Season round has ended, it seems less fun if we don't discuss who the players who deserve the title of Most Valuable Player (MVP) are.
Here are 10 players who get MVP in the regular season:
1. Eksa "RedFaceN" Rachman Jayanto (ION Esports)
Successfully entering the top 5 of PMPL ID Season 1 regular season with Red Rocket Cosmic, RedFaceN decided to move to ION Esports.
Even though he failed to bring ION to be a champion in the regular season, he managed to bring 2 titles at once, namely terminator with 138 kills and MVP player with a rating of 1.64.
Bringing the championship title in PMPL ID Season 2 and being Indonesia's representative in PMPL SEA 2022 certainly makes his achievements even more complete.
Also Read: These 3 Featured Teams Are Threatened To Fail to Qualify for the PMPL Season 2 Grand Final
2. Muhammad "Ryzen" Albi (Bigetron Red Aliens)
Known as the best rusher in Indonesia and even the world, this time Ryzen had to admit the superiority of RedFaceN as a terminator by getting 119 kills with an MVP rating of 1.55.
Even so, Ryzen became the player who got the most headshots throughout the regular season with 32 points.
Even though he has confirmed he has passed the PMPL SEA 2022, Ryzen's performance must be awaited, especially during the PMPL ID Season 2 grand final.
Also Read: Thanks to its achievements, AURA Esports is optimistic that it can win the PMPL ID S2 Champion
PROMOTED CONTENT
Featured Videos