GridGames.ID – Garena Indonesia officially released the game Contra: Return today, Thursday, 20 September 2022.
This classic game reworked with a modern touch can be downloaded for free on iOS and Android devices starting today (20/9).
In order to celebrate its release, Garena Contra: Return Indonesia has prepared various events with attractive in-game items prizes that are ready to be distributed to all Commanders (as Contra: Return players are called).
Also Read: Contra: Return, Classic Game Re-released With Modern Appearance
The in-game events provided by Contra: Return consist of several periods, namely:
First period (20 – 23 September 2022):
Get bonus gold and exp as much as 50% every time you play the game Contra: Return.
Second period (20 – 30 September 2022):
Have the opportunity to get one of the A rank weapons for free.
By completing missions in endless mode, boss challenge, bounty mode, duo mode or hero battlefield using a thrower weapon, you will receive weapon fragments to exchange for rank A Plasma Thrower weapons.
Third period (24 – 30 September 2022):
Get free exclusive skins by collecting puzzle fragments after completing missions in ranked match and classic duo modes.
In 1 day, you can get a maximum of 2 Fragments. The collected puzzle fragments can be exchanged for the Catelyn Star Uniform skin.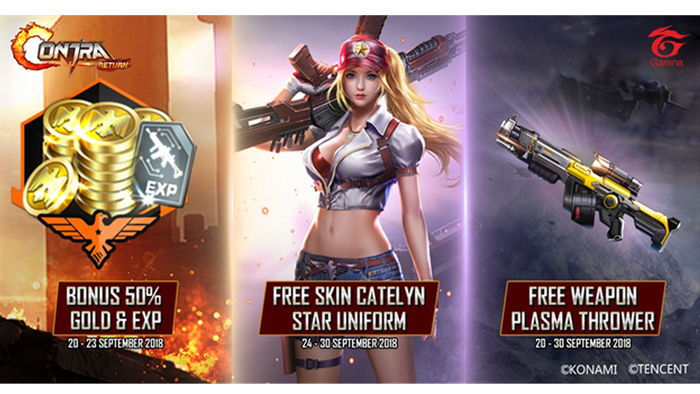 Garena/Konami/Tencent
Contra Return Pre-Registration Reward
Also Read: Wow, Wiro Sableng Attends ASL Season 2 Opening at Neo Soho, Jakarta
Garena Contra: Return will also give special in-game items prizes to all Commanders who do pre-registration events.
Some of the prizes that Commanders can pocket include 1,888 Gold, 10 White Weapon EXP Cards, 30 Quantum Shards, 20 Micro Modules, 50 Nuclear Battery and 2 Team Revival Coins.
Wow, that's a lot of prizes!
Those who take part in the event can take the prize starting from September 20 to 27, 2022 at the event center in the game Contra: Return.
Have you joined yet?
PROMOTED CONTENT
Featured Videos