Logos are symbols used to represent commercial organizations, social organizations and even individuals. Furthermore, logos are used remotely for identification, marketing and promotion.
With the growth of computer technology today there is a significant increase in logo creation. You can create a logo using various methods and one of the effective methods of creating them is by using an application specially designed for logo design.
You can use all the free logo design apps to easily create different types of logo designs. Three of the apps on this list provide tons of objects or icons from a variety of different categories for creating logos. These applications allow you to add images from your computer and can also add various effects to your logo.
You can save the resulting logo in the popular image file format with a transparent background. Let's take a look at each of the free logo generators on this list.
List of cool logo maker applications (Names, Symbols) online & offline the best free PCs and Laptops
Canva is more than just a logo maker, you can use this site to design posters, banners, cards, invitations, and more. There is a large selection of templates and basic designs, and you can ensure that your creation will meet your needs by specifying the correct size (in pixels, inches or millimeters).
With Canva Logo Maker, it's very easy to add and customize images, images and text to your logo, – just drag and drop to the desired position, resize as needed and adjust to your liking. If you're creating a logo for a business or group project, you have the option of collaborating.
Most of the design elements in Canva are free, although some are available for premium accounts.
If you're in a hurry and looking for a quick solution to your logo needs, Canva also offers a custom logo maker for that purpose. Just enter your company name, choose a category (options include school, sports, music, cars and food) and then choose a few logo designs that appeal to you, to give Canva an idea of ​​a style you might like.
You will then be asked to log in, if you haven't already, either using your Facebook or Google account, or by creating a new login using an email address. Creating an account means you can save your work and continue creating your logo later on any device.
If your needs are simple, Logaster is a great service for you. You can create a logo online and download your (small size) logo for free, although you have to pay to download a high-resolution logo.
The Logaster Wizard feature instantly guides you through the logo creation process and gives you a number of basic designs to choose from. After selecting a design, you can change the colors and overall concept, but there are no advanced image editing tools. Depending on your needs, the editing tools provided can be an advantage or a disadvantage.
All Logaster designs are quite simple, with a definite and identifiable look. You are given a zip file containing small versions of your design in various color schemes.
As long as you don't need a big logo, Online Logo Maker could be just what you're looking for. Online Logo Maker features an impressive online image editor that you can use to create logos, business cards, combine text and images.
There is a collection of images and forms that can be added, resized, repositioned, and edited. You can also upload your own images, if you have one you want to use.
Online Logo Maker also supports "layers", so it's really easy to combine elements to create something that looks really impressive. Layers can be duplicated, and there are undo and redo options so you can try ideas that won't break the design. Your logo is saved so you can go back and edit it whenever you want.
Small versions of your creations can be downloaded for free for use on websites, social media, and email signatures, although there is a fee if you want a higher resolution logo that can be used on letterhead, T-shirts and other printed materials.
The Free Logo Makers lets you create a logo online for free, but it's not quite complete. While it's free to design and download your logo, there are limited size and format options. If you want a large or vector version, you'll need to choose one of the three paid plans.
Whichever plan you take, you'll always start with one of the hundreds of website logo templates. Browse or search through the massive selection, pick the one you like, then start customizing it. The Free Logo Makers online editor is impressive, giving you access to tons of tools, including layers. You can email your finished creation to yourself, or use the auto-generated html code to add images to your site.
Squarespace is a website building service, but it also offers a logo maker that you can use independently. Squarespace Logo Maker has a focus on simple, minimalistic designs, which is perfect if you're looking for something flashy and eye-catching.
After adding the text you want to use, you can then add customizable icons. There are only a few customizable options, but that's not necessarily a drawback, and means you can create an effective logo in just a short amount of time.
You can only download logos at a relatively low resolution without paying a subscription fee, and image files are watermarked, but the watermark is so small that it doesn't really stand out.
Logo Design Shop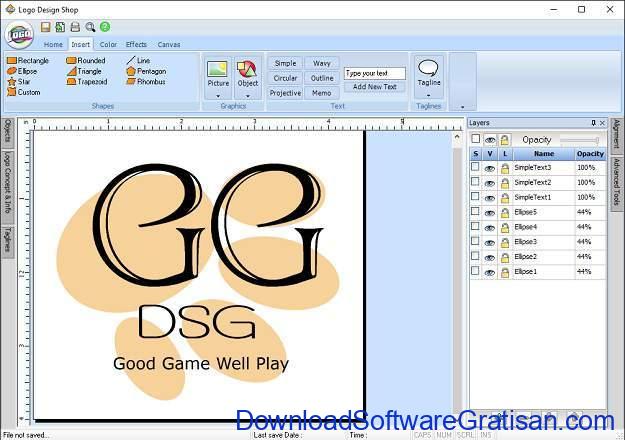 Logo Design Shop is one of the best for logo design which has many features. Logo Design Shop provides many useful features for logo design, which include:
Provides many logo templates from more than 20 categories, such as: Technology, Health & Beauty, Business, Food & Beverage, Construction, etc.
Allows you to design your own logo template using various shapes, colors, effects and canvases. You can create 4 types of effects: Shadow, Frame, Blur, and Emboss.
You can take pictures from your computer with popular image file formats such as: JPG, PNG, BMP, TIFF, GIF, etc.
Provides a large number of objects from 4 different categories, such as: Font Art, Elementary Elements, Flags and Seals.
Provides many slogans that you can add in the logo.
Can export logo designs created in popular image file formats with transparent backgrounds, such as: JPG, PNG, GIF, TIFF, HCK, etc.
How to make a logo using Logo Design Shop
After running this software, select a template or select a blank logo canvas.
Start creating a logo using various objects, effects and editing features. You can also insert an image from your computer in the logo.
Once the logo is created, export it to a popular image file format.
Note: You must register on the site to install the application. Registration is free.
Jeta Logo Designer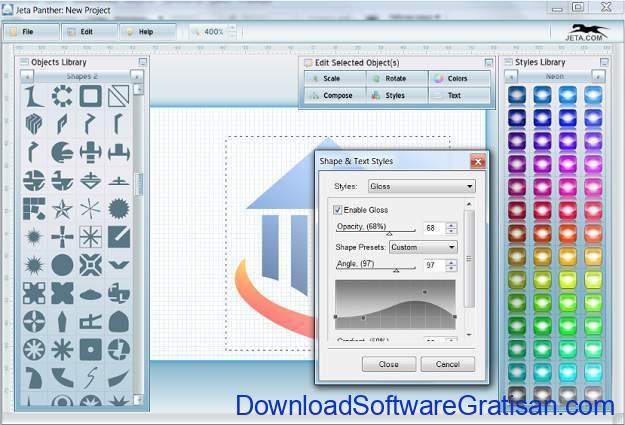 Jeta Logo Designer is a quality application for logo design. Jeta Logo Designer provides many logo templates, objects and styles with many other useful features.
Some of its main features are:
Provides more than 50 great logo templates for logo design from various categories.
Lets you create a logo from more than 70 objects, some of the objects are: circle, square, pentagon, triangle, arrow, etc.
Allows you to create stylish designs using a large number of objects from various style categories such as: Glossy, Button Style, Gradient / Shadow, Simple Gradient, stroke Bold, etc.
You can also include text and images from popular image file formats in your logo design. Image formats include: PNG, GIF, JPG, BMP, TIFF, etc.
You can design a logo with a transparent background and save it in PNG, GIF, JPG or BMP file format.
This free logo maker application is small in size with a setup file size of less than 10 MB.
How to create a logo using Jeta Logo Designer:
After running this application, select a template or select a blank template.
An Image Options window will open. Here you can set the logo canvas and logo background color.
Add various objects or shapes from a large number of existing shapes and edit them as needed. You can also add text and images from your computer.
Finally, save the project or save the logo image in popular image file formats.
Note: Jeta Logo Designer also has a paid business edition with many more useful features.
Color Logo Maker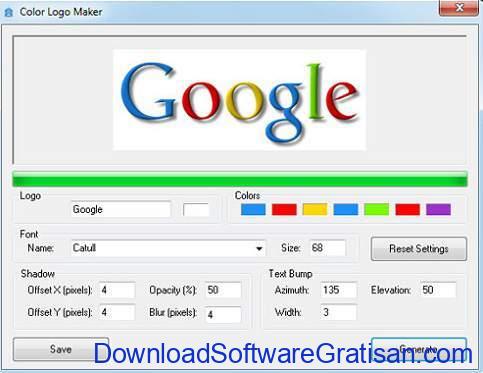 You can use Color Logo Maker if you are looking for an app to create text-only logos.
Some of the useful features of this app include:
Can easily generate text logos using many different colors.
Can use many different fonts to create logos and add shadows to logos.
Can save the logo generated in PNG image file format, BMP and JPG file format.
Logo design is easy by using this logo design app.
Steps to create a logo using Color Logo Maker:
After opening this app, input logo text.
Then, edit the font style and create effects in the logo.
Finally, save the logo on the computer.
Color Logo Maker is a very small application with a download zip file size of around 50 KB and is available in portable.
Free Logo Maker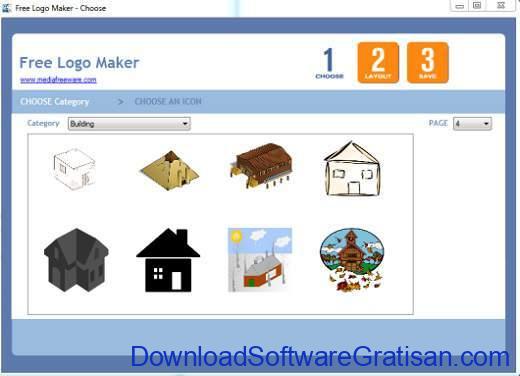 Free Logo Maker lets you create a logo design from a large number of icons or objects and two lines of text with different font styles. Free Logo Maker is a logo application with a user-friendly interface.
Some of the effective features of this logo design app are:
Provides a large number of icons from 14 different categories, such as: technology, buildings, food, transportation, health, etc.
Allows you to rotate icons or text clockwise or counterclockwise and resize them.
Provides more than 50 font styles to create logos with font styles.
Can generate logo in JPG, PNG, GIF or BMP file format with transparent background.
Steps to create a logo using Free Logo Maker:
After running this application, select an icon or object from one of the available categories.
Add text in the logo (if desired) and you can only add two lines of text. You can rotate and resize text or icons.
Save the created logo in one of the popular image file formats.
Note: This application has an installation that contains ads and will try to install third party software.