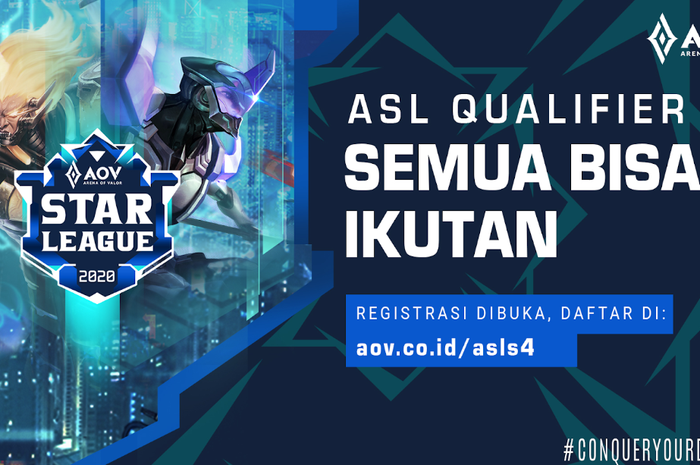 Garena
AOV Star League (ASL) Qualification
GridGames.ID – Arena of Valor, a MOBA genre mobile game developed by Garena Indonesia, opens 2022 with the AOV Star League (ASL) Season 4.
There is something different from the previous ASL season, not only professional players, the tournament now invites amateur players to compete too, you know!
Professional and amateur players can compete for a total prize of 1 billion rupiah.
Registration for ASL Season 4 is now open and will close on May 24, 2022.
For those of you who want to register and find out more complete information about ASL Season 4, just click here.
Also Read: SEA Games 2022: Indonesian Team Wins Silver Medal for AOV eSports Branch Cabang
ASL Season 4 this time will be different from the previous ASL, where this season will start with the ASL Qualifier phase, then move on to the ASL Playoff phase, then move on to the ASL League and ASL Grand Final.
The Qualifier Round will consist of several waves and brackets, each team can register themselves in the brackets provided in each wave.
The top 5 teams will then proceed to the playoffs.
The ASL Qualifier will be held online so that all players throughout the country can participate.
A total of 12 teams consisting of 5 ASL Season 4 Qualifier teams, 4 ANC Season 3 teams, and 3 ASL Season 3 teams will compete in the ASL Playoff round.
Also Read: AOV Indonesia Team Successfully Donates Silver Medal at SEA Games 2022
Finally, the 3 best teams from the Playoffs will then fill 3 slots with EVOS.AOV, BOOM Esports, DG Esports, and SES Alfalink in the ASL League round.
PROMOTED CONTENT




Featured Videos